Vertical Urban Garden
A sustainable garden to produce fresh food in the big cities, using existing walls and recycled materials.
Join the Urban Revolution !
GreenBelly is a vertical garden that can change the future of cities, by making use of the existing walls to produce fresh food in limited spaces. Using recycled materials and organic waste from neighbors, it is a sustainable project that can change the life of urban dwellers!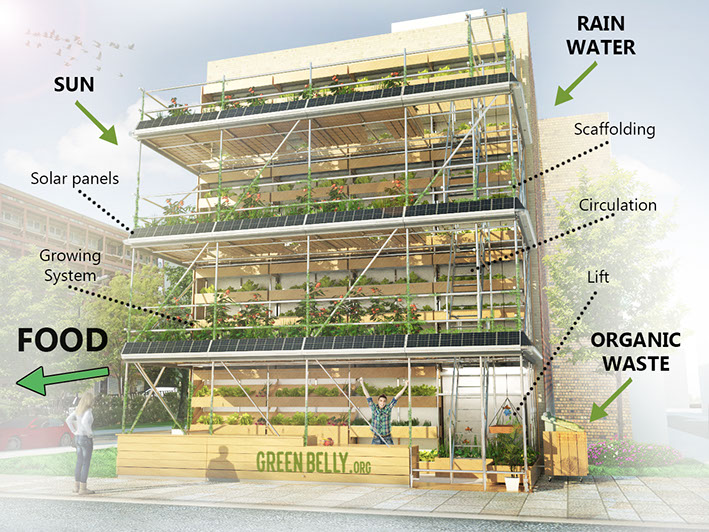 Highlights
Removable vertical vegetable garden.
Novel use of residual spaces.
Flexible structure with scaffolding and recycled materials.
Creation of compost with organic waste.
Ecological and permaculture growth techniques.
Distribution and sale of fresh local food.
Local community participation.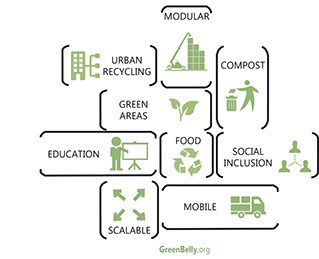 Growing veggies on existing walls
Modern cities need to reconnect existing architecture with nature. With GreenBelly we convert blind walls into productive centres for local residents, increasing the urban green surface and improving social cohesion.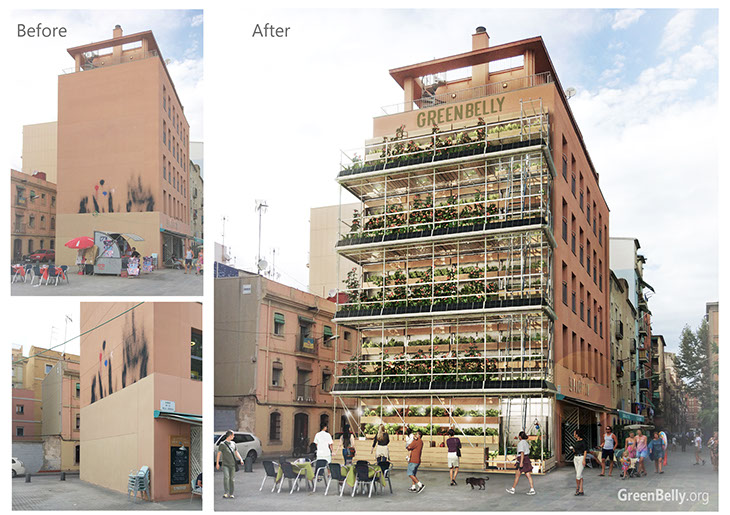 Recycled materials and organic salads
GreenBelly uses leftover materials in urban environments, such as scaffolding or wooden pallets. With only 35 m2 of land, a 6-level garden can produce up to 6400 kg of vegetables per year and generates 162 m2 of green area. It can provide organic and affordable salads for residents and people with limited resources.
Greener city, neighbourhood participation and local economy
The vertical garden improves the city from an ecological point of view but also encourages local community participation and social inclusion. It has the potential to help people with limited resources and to provide education in agriculture practices and healthy eating. Local residents become a key part of the system because they help create compost with their daily organic waste.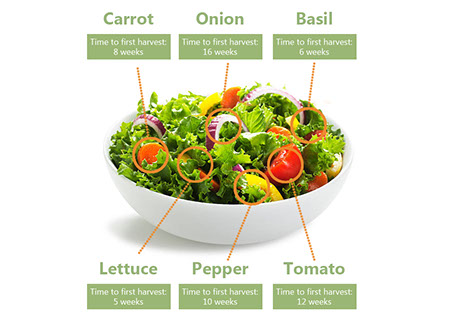 Local Benefits:
Provides fresh, seasonal, flavourful

and

nutrient-rich food products.

Improves urban landscape.
Maintains and develops l

ocal biodiversity.

Reduces the use of packaging

and the pollution associated with food transport.

Fixed low prices,

due to low costs of transport and intermediaries.

Benefits the local economy,

generating new trade circuits.
Social help in times of crisis
"Give a man a fish and you feed him for a day, teach a man how to fish and you feed him for a lifetime"
The GreenBelly prototype is designed for big modern cities, but also for the poorest countries where access to food is difficult. It can feed homeless people in difficult times, serve as a recreational hobby for residents, or teach children the value of nature. Therefore, it is not just an urban garden, it is a local project with global benefits.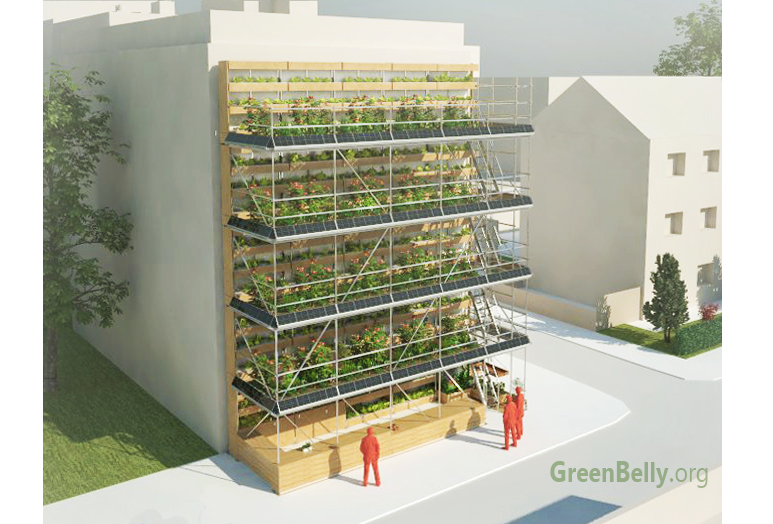 Sustainable project
GreenBelly provides ecological, social and economical benefits for cities, becoming an essential element of urban sustainability. We optimize the natural inputs such as solar radiation and rainwater, and recycle organic waste into compost, generating fresh and local food, a centre for community participation and overall a greener city.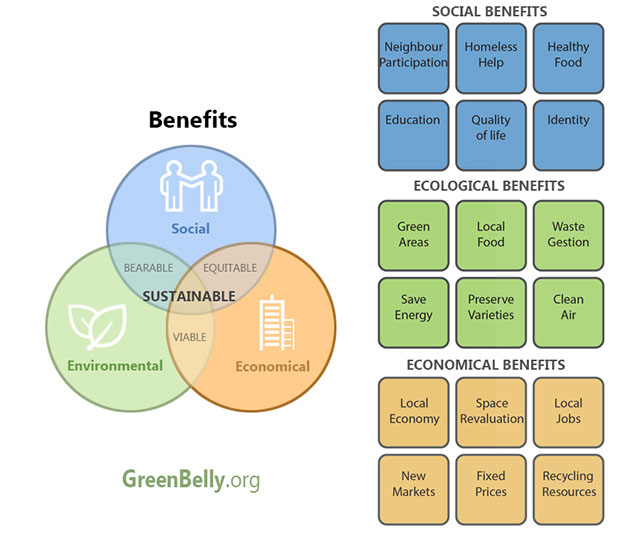 We want to rethink cities so that people's wellbeing are a priority. Nature has to find its way back into modern cities, and GreenBelly is more than just providing food, it is a mechanism for urban regeneration.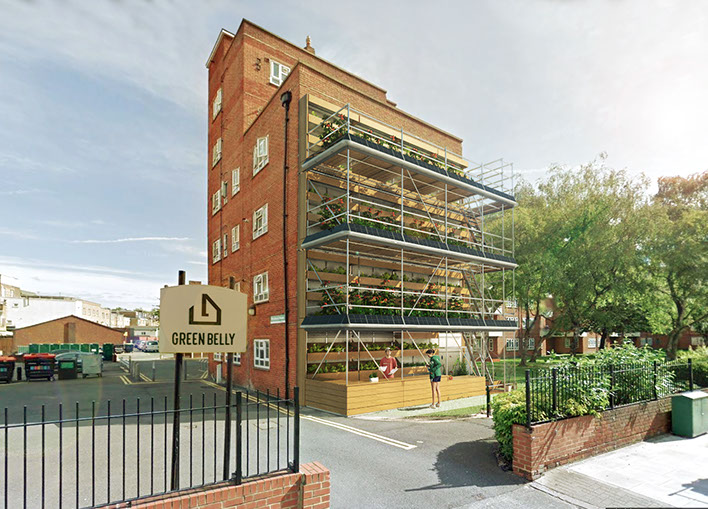 " (...) of all the occupations by which gain is secured, none is better than agriculture, none more profitable, none more delightful, none more becoming to a freeman. " Cicero, De Oficiis (44 BC)

Modern cities are suffering from urban saturation, linked to the progressive increase of the global population. City life can be unsustainable and unhealthy to some people due pollution, poor diet and a sedentary lifestyle. Producing local food and incorporating natural elements in big cities is a basic need for residents but also for the environment. With GreenBelly, we propose a sustainable project at manageable scale with short-term results.

Recycling spaces
All large cities have many walls without windows and perfect solar orientation, caused by bad quality urban developments, wasting an opportunity to improve the neighborhood. We can see them in residential buildings, but also in schools, prisons, factories, nursing homes, and hospitals, to name a few. We can make use of these unused spaces to make a greener city by growing food on them.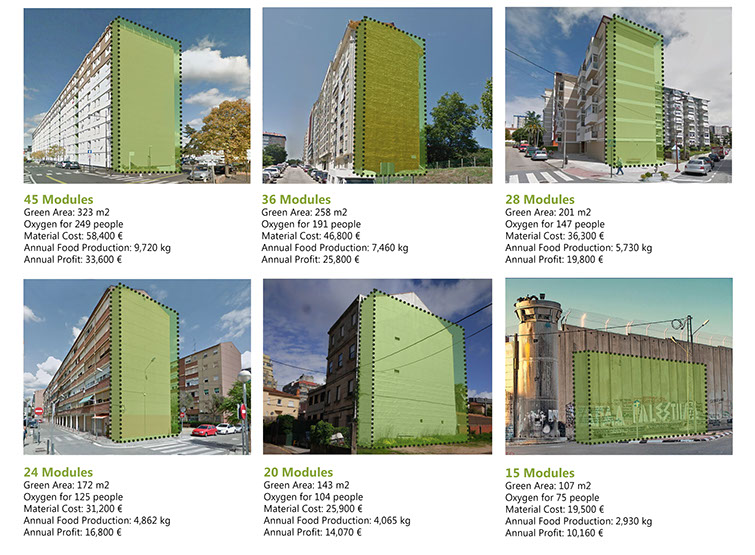 The prototype protects the existing façade from external constraints, creating a protective and productive "green belly" for the building. The main advantages for the existing building are the following:
Balances the temperature inside the existing building.
Protects the façade from humidity with an extra layer of waterproof material between the garden and the existing wall.
Reduces sound pollution in the existing façade by up to 10 decibels.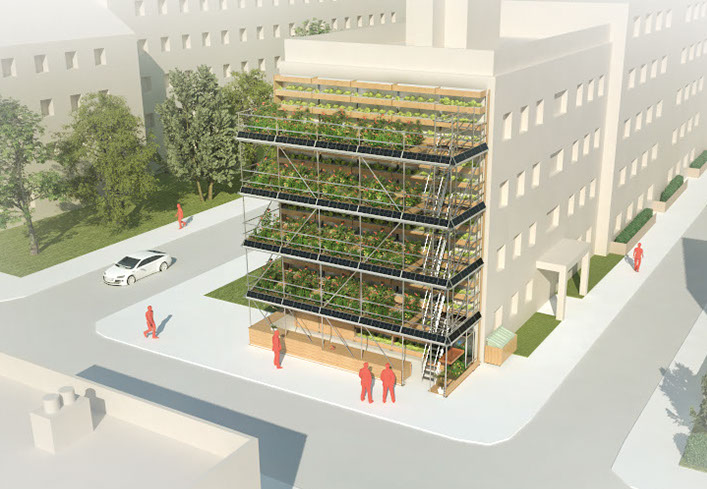 Recycling resources
When installing GreenBelly, nothing is wasted. We use every available element in an urban context to build the prototype in the most sustainable way. For the structure, we use recycled materials such as scaffolding, construction pallets or concrete form-work wood panels. They are cheap, flexible, easily dismantled materials and they are easy to find in times of crisis when local food is most needed.

The nutritious fuel for the garden is freely inputs available to any city, namely sun, rain and compost from local organic waste.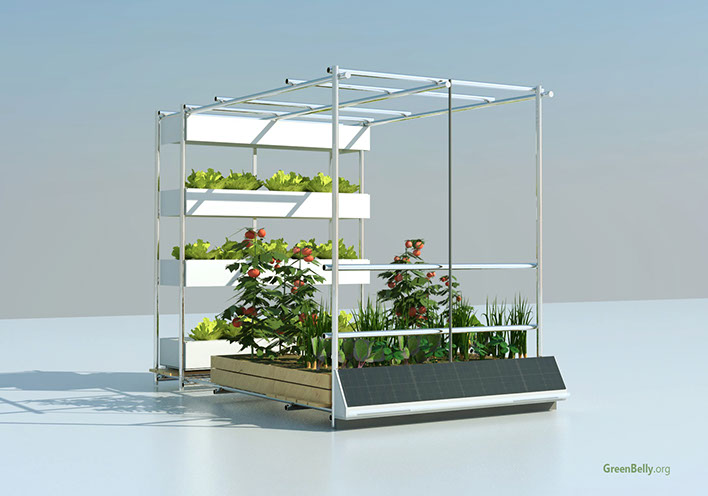 Rain:

The circulation of water falling by gravity is optimized through a closed circuit to irrigate crops, saving water consumption.

Sun:

The vertical arrangement promotes solar optimization at all levels, together with the energy of photovoltaic solar panels.

Organic waste:

The project begins with a compost bin, where neighbours deposit organic waste to be transformed into nutrients for the garden.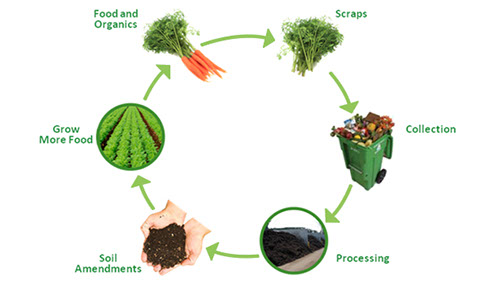 Bees and insects will also be used as pest control mechanisms, avoiding the use of chemicals and pesticides. With this, we generate the necessary ingredients for sustainable cultivation and production at the urban level.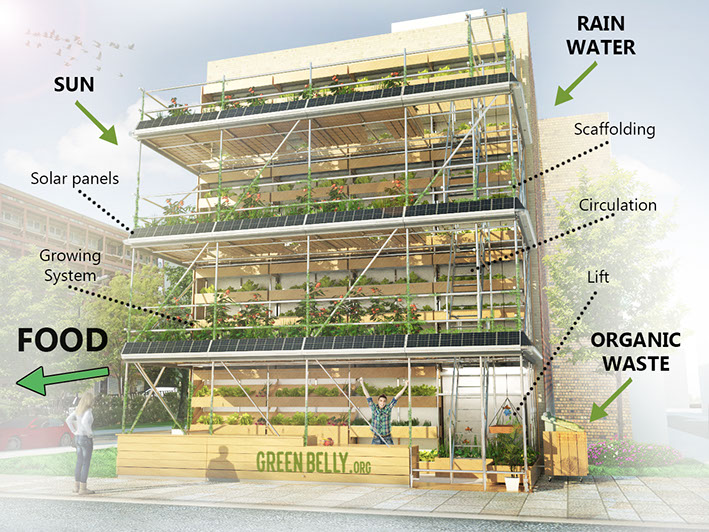 The scaffolding structure provides the necessary flexibility to adapt to all types of façades, creating a low-cost modular system. The assembly is fast, clean and simple, with no need of heavy construction machinery.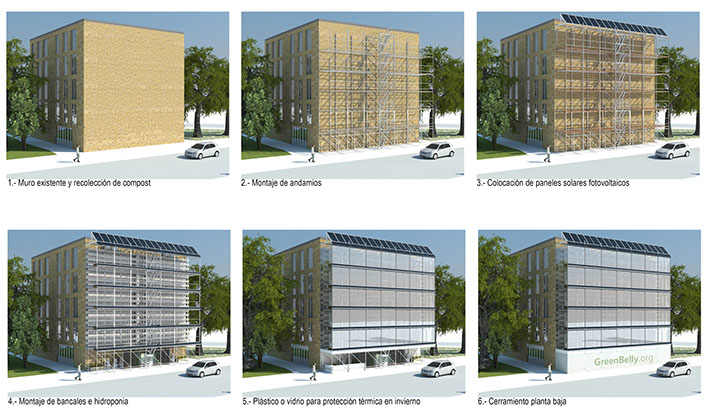 In general, the geometry of the system is rectangular in plan and also in elevation, although the set can change in size and shape, with a wide range of possibilities. Each module forms a kind of "production cabin" where space is optimized.

The prototype includes a lift for vertical transport of products and materials, anti-fall protection measures and a night enclosure on the ground floor to protect the garden from external intrusions.
Closed energy circuit where nothing is wasted
Depending on the climate, the vertical garden can be thermally open or closed as a greenhouse, through a plastic or glass enclosure, to generate a thermal equilibrium that will benefit the production in the coldest months.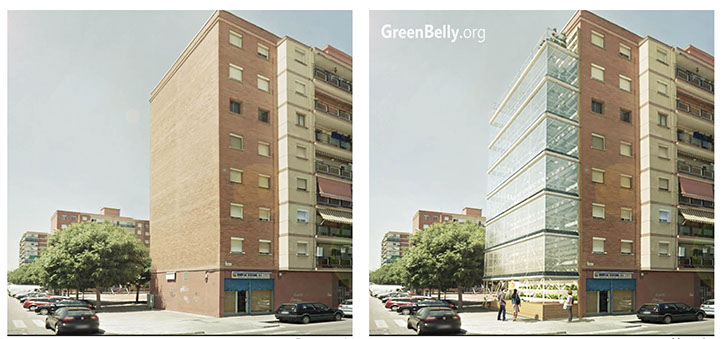 The vertical arrangement optimizes the use of available solar light: solar radiations can reach the different levels through a grid in the ground. It is possible to include photovoltaic solar panels that will provide the electricity needed for the basic functions of the system. The vertical arrangement also favors ventilation by natural convection when the garden is thermally closed. The garden uses rainwater, which moves in a closed circuit falling by gravity from the top floor. Drip irrigation is automated.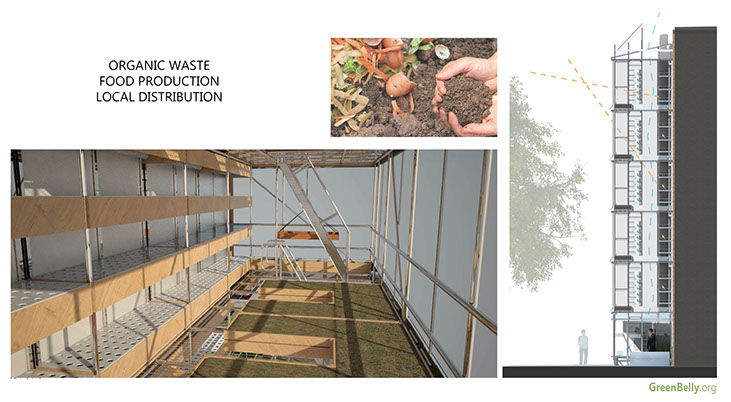 All modules allow for the circulation of workers, who will be able to access the crops easily and include passive protection systems to prevent falls. Vertical circulation includes a ladder, which can vary in size depending on the dimensions of the garden and number of people working.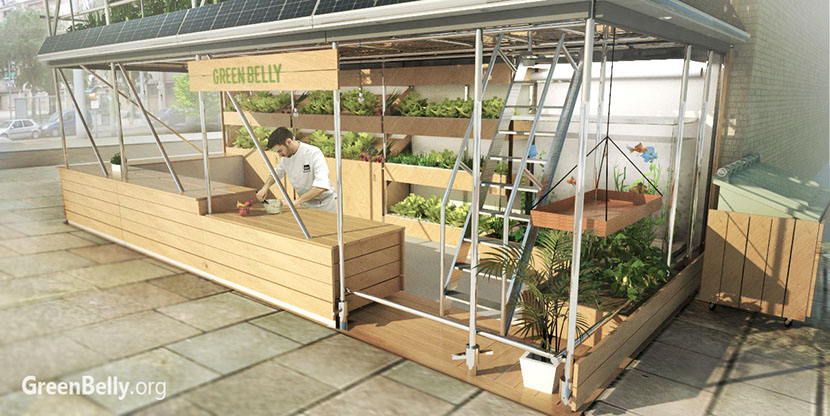 Flexible and removable system
The GreenBelly prototype can be disassembled, stored and moved to different parts of the world, as it can easily fit into a shipping container. Assembling the structure on existing façades is quick and simple, thanks to a modular system.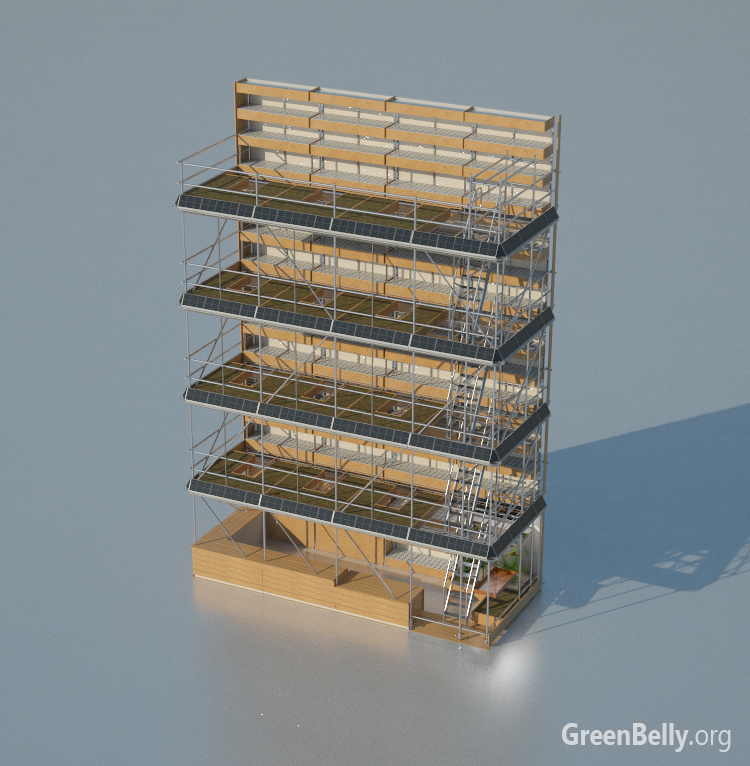 The modules are presented as "production cabins" designed for the optimised growing of crops at an affordable price. They fit together like "Lego" pieces, forming the whole of the garden. They can be disassembled at any time, expanded or reduced.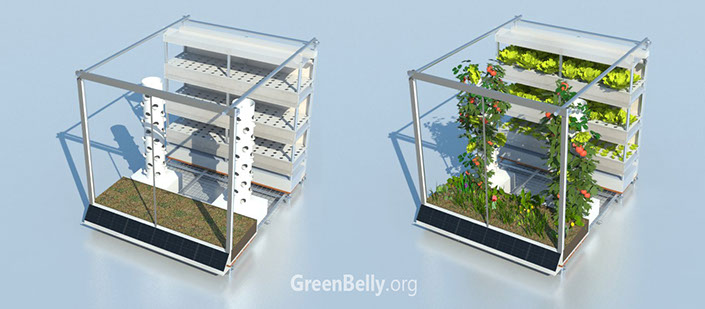 There are several types of production modules. The basic standard module consists of a soil bed, two aeroponic towers and a hydroponic wall. A more economic variant would be to replace the aeroponic towers by soil bed. Therefore, several systems can be combined in the same module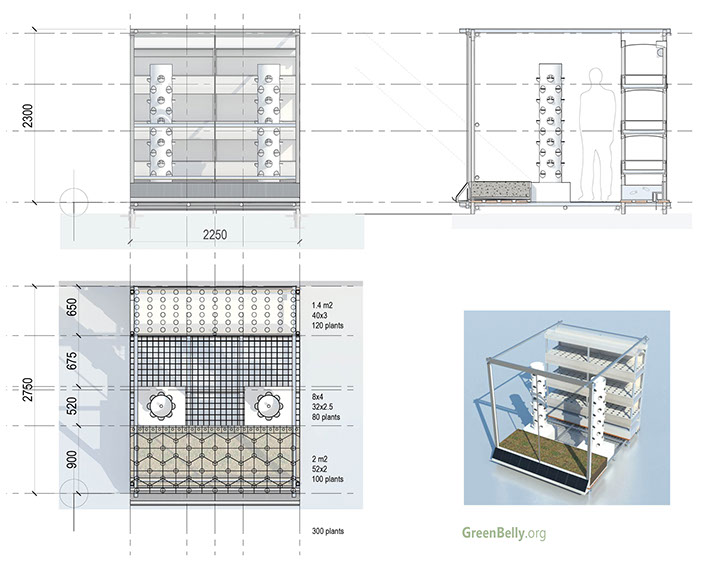 Construction system of a standard module: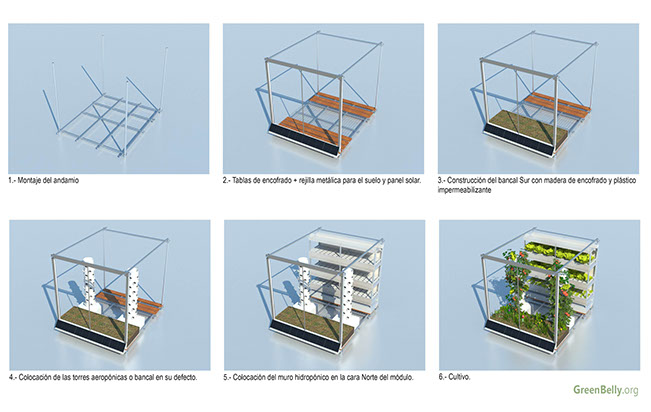 The production
A single module of 2 m x 3.5 m can produce up to 263 kg of food per year. Growing local varieties and seasonal products will be encouraged, although the most productive varieties in urban contexts with a temperate climate are lettuce and aromatic herbs.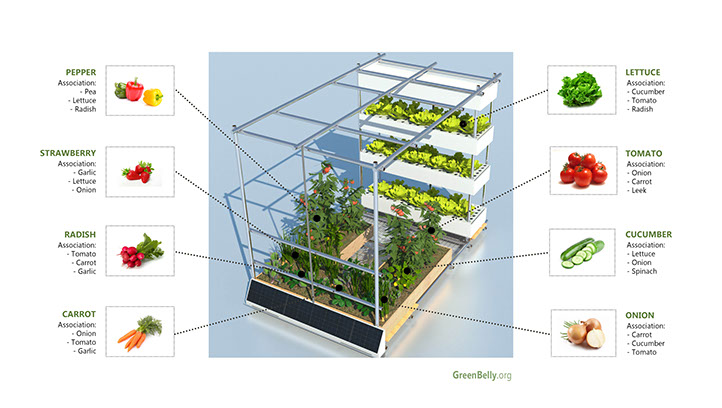 The garden follows permaculture principles, using positive associations of different varieties for good production, without chemicals or pesticides. We will use bees by placing beehives on the upper floor, and other insects as a tool for pest control (not elimination). It is possible to make fresh and local organic salads and sell them on the ground floor or to distribute products to local shops and restaurants.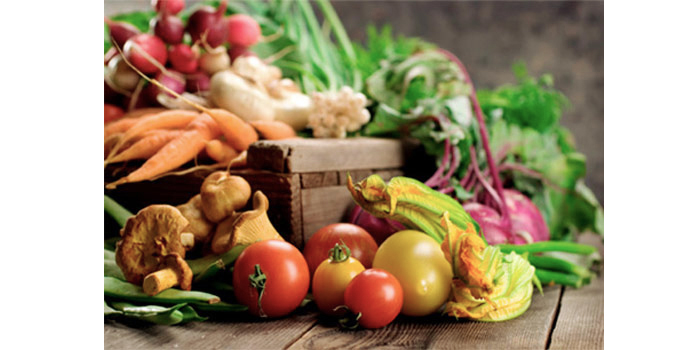 Production prices are not subject to market changes, due to minimisation of transport, intermediaries and packaging, therefore costs are reduced to a large extent and food products can have fixed prices. This allows selling salads "zero kilometre" salads without being affected by changes in the prices of origin. People with limited resources, homeless or disadvantaged groups will have priority for the food distribution.

GreenBelly can be developed in several types of urban land, which will define the form of production and the role of the people involved. The use of the land and the existing façade can be public - public, public - private or private - private. The number of people who work in the garden, the distribution of harvested products and the income from sales may vary depending on the owner of the land.
Types of management: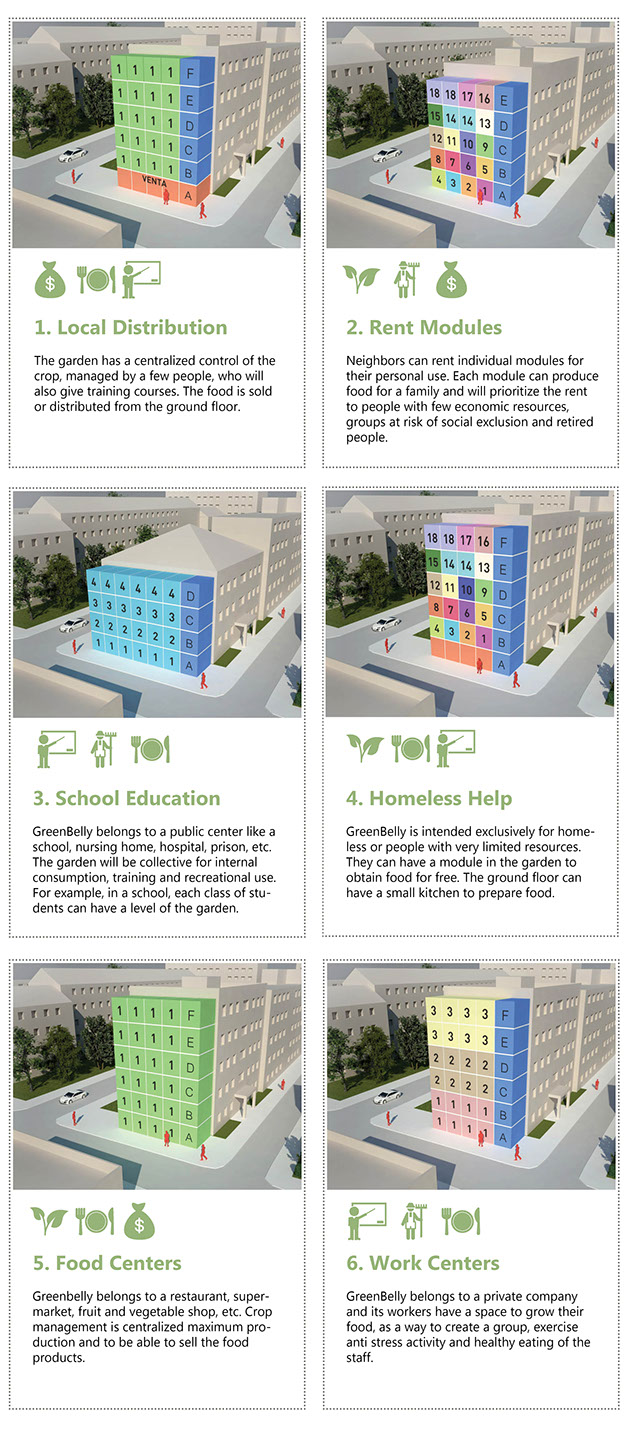 Redeemable in 3 years
The estimated production of vegetables (20 module-prototype) in a temperate climate is 3,900 kg per year, so by selling the products (at supermarket average price), the price of materials and assembly could be written off in 3.2 years, which can be reduced if recycled materials are used.
Estimated material cost of a 20 module-prototype is € 29,982.85, although it can be reduced if recycled materials are used. The total estimated price including licenses, taxes and assembly / disassembly, would be € 39,076.00, although the price of transportation and taxes can change depending on the place of installation.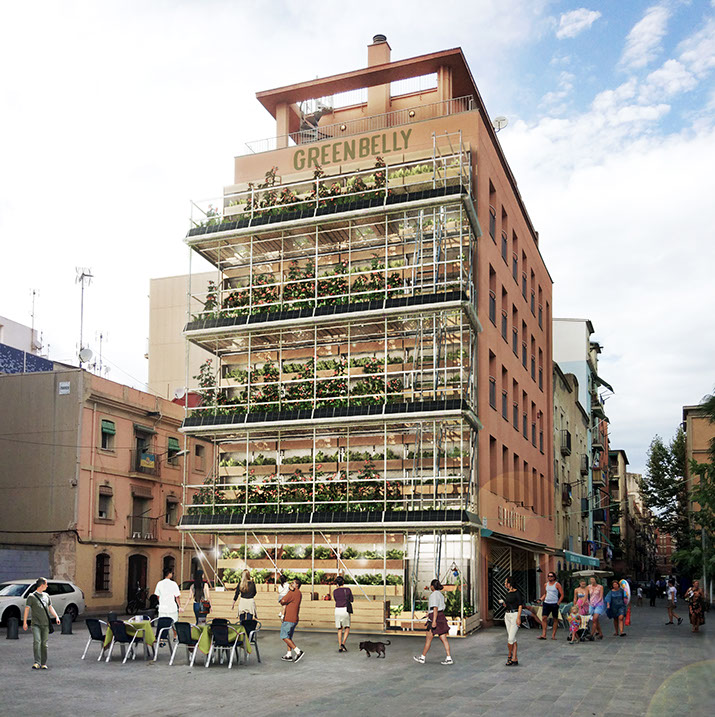 Therefore, in addition to generating an ecological and social benefit for large cities, GreenBelly can also be profitable from an economic point of view, since the pay back period is relatively short, making it a viable, sustainable and functional project.
Help the project with a donation
Be a part of the revolution. With your donation you are helping to build vertical gardens in disadvantaged neighbourhoods to help people in need.
Each help is very important to develop the project !
Risks and challenges
As with every project, there are risks associated with GreenBelly but they are manageable.
1. We are a young company and we are starting to make the project a reality. So far we do not have many economic resources so starting the project requires more time than for an established company. Even so, the people who currently work on the project have international experience in the field of architecture and urbanism and in the agricultural sector, so we have the knowledge and the necessary motivation to consolidate the project.
2. It is an innovative project that can confront food lobbies, but there is a growing demand and interest (public and private) in big capital cities, in addition to a need in low-middle income countries.
3. There is a risk of pests that can affect crops. At GreenBelly we are committed to organic farming, so we will not use chemicals or pesticides. Our project is based on permaculture and positive association of crops, so we will use some plants and insects to minimise pests. It is important to emphasise that we do not want to eliminate pests, only control them.
4. Public agencies can be slow in the management of this type of project. There is almost no offer (real, beneficial and quality) so we expose ourselves to the fact that the assembly process can be longer than desired. This may increase in developing countries or places suffering institutional crises such as Palestine or Syria, where there will be many problems to execute our prototypes, but we will try until the end.
The biggest risk is taking too long or launching with hardly any resources. Therefore your help is very important for the success of the project.
Join the urban revolution !